wisconsin
S-4066 Hwy BD #11
Baraboo, WI 53913
ph. 608 254-9959

Residential roof installation tips
Roof installation or replacement is always a serious investment. For one thing, it requires substantial amount of money even for the cheapest option, for another – what you choose will be with you for the next few years if not decades. That's why it's so important to find the best available roofing materials as wells as experts, who will be able to lay your roof properly. Keep in mind that those two requirements doesn't fall into either or category. You need both excellent roofers and high quality products to enjoy best results for many years. But it's possible to achieve it with some research and fact checking.
How to choose best roofing material?
There isn't one ultimate choice of roofing material that may be termed the best. Go and ask your friends and neighbors about their favorite products and you probably hear plenty of contradicting answers. Why so? That's easy. They tell you what is best for their particular needs and expectations in terms of costs, lifespan, maintenance, repairs or even such subjective thing as looks. So before you'll get entangled into discussion of superiority of one particular solution over another, it's better to rephrase question end consider what's the most important for you. You know that already? Then go back to friends and neighbors and ask how long their roof is supposed to last or how often they have to repair it or anything else that you want to know. Another thing worth learning is whether, basing on your needs, they would recommend you that particular roofing material and if they would, chose it again. All nice and well but it's only the beginning of your quest for perfect roof. End users opinions matters but it's still not the same as knowing all the pros and cons of particular solutions. Therefore, the next step is going online, preferably browsing construction websites and blogs. If it gets to technical and after second sentence, at most you stop understanding the difference between ratings, finishes, coatings and the rest of technical jargon then simply go elsewhere. These resources may prove great for in crowd specialist but there are plenty of other good sites where lay people can find their answers. After perusing internet, you either learn what you want (and can afford) or not. Everybody's situation is different so there is nothing wrong with either. In both cases, it's good to take your decisions or doubts to professional roofing companies Schaumburg IL or elsewhere in your area. They will not only give you necessary explanation but prepare estimate (usually free) as well. While getting a quote it's advisable to ask several (at least three) Roofing Companies Hoffman Estates to have better knowledge of your roof cost. Many homeowners are worried about the price of their undertaking hearing that this friend or that neighbor coughed up a hefty sum. But actually, it all depends on the type of material used. Think of asphalt shingles, which made over 70% of single-family houses' roofs. The main reason? They are so affordable, it sounds like steal. Moreover, at the same time they can be very esthetic. Hearing about asphalt shingles affordability and esthetics you may ask yourself a question why more homeowners than "mere" 70% won't decide on such an option. The answer is simple. Low initial price doesn't equal overall service life cost due to the frequent replacement. The cheapest asphalt shingles can last as little as 15 years and the most expensive, architectural ones – up to 30. Another drawback is that they don't fare well in extreme weather conditions. What could you chose instead then? There are several options. One is wood shakes and shingles. Word of explanation why shingles and shakes differ (and yes, they do). It boils down to hand (in first case) and machine (in second case) manufacturing process, which results in rough and thick look of shakes and smooth and visibly thinner shingles. Getting back to the point, which is why you may want to choose wood shingle or shakes. They have longer lifespan than asphalt and natural resistance to insects if they're made of cedar (it's the most popular wood so probably they are). On top of that, it's one of the greenest choices as this type of roof covering is often manufactured from trees that toppled of age or during the storm. In addition, it's fully recyclable (think wood chips, mulch or compost). If that's not enough, wood shakes or shingles simply look great. Speaking of remarkable looks. There are two other great yet more expensive options, mainly ceramic tiles and slate. Both are extremely durable and if properly maintained they can easily last well over a hundred of years. Either of them also imparts unique look to the building it adorns. Tiles are best suited for Mediterranean, Hispanic and other edifices built in southern European styles. Slate goes perfectly well with Victorian houses. However, those rules aren't set in stone and there is no saying that such materials won't be appropriate for you house. If you aren't sure, find a project of building similar to yours and see how you like it. Unfortunately slate and tiles aren't only pricy but heavy as well. Sometimes it might be necessary to reinforce the roof's structure. If you can't or don't want to do this then consider metal tiles or panels installation. It's one of the best price wise options available. When you see the upfront cost, it doesn't feel that way but metal roof last a lifetime, allows saving on energy bills and often getting you insurance discount and tax credit.
What about roof insulation?
Choice of high quality roofing materials that will provide good protection from the elements and insulate your house against extreme temperatures (both high and low) is of paramount importance. But homeowners oftentimes forget that covering isn't everything and to benefit fully from exquisite materials they should think about proper insulation. It not only improve thermal comfort of the dwelling but allows for lower energy bills as well. Keep in mind though that not all of the insulating technics and products are created equal. I'm not saying here that some of them are inherently better, only that what you chose should match your particular needs. If you ask anybody from Roofing Companies Wilmette IL or elsewhere, you'll learn for example that warm and cold roof require slightly different insulating technic. With warm roof, insulation is installed directly under the pitch, while cool roof has insulating material immediately above the ceiling of uppermost floor. Second solution is cheaper but before you decide one or the other, you have to consider which option would be best in your climate. Installing roof insulation also poses another challenge in shape of interstitial condensation. It means that water condense in the inner layers of building envelope, which causes problems. There are easy ways to remediate it, namely vapor barriers but to ensure that the issue was dealt properly, it's best to hire professional roofers like those from LION Roofing Companies Des Plaines. However, insulation doesn't limit itself to the type of construction. You also have plethora of materials to choose from. The most common is blanket insulation (also known as matting insulation). It's usually manufactured from glass or mineral wool but can be made from many other substances like plastic fibers, cotton or wool. Another popular material is foam board. Contrary to the blanket insulation, foam board is rigid and has to be cut and fitted into place. If you live in hot climate, you may want to consider installation of radiant barriers, which inhibit heat transfer through radiation but in cooler areas installation of typical thermal insulation, is more effective. For spaces with limited access, blown-in insulation, made of cellulose mineral fiber often proves a viable option. However, there is one caveat – it requires specialist equipment so check beforehand if your roofing contractors will be able to provide it. Last but not least is spray foam insulation. Application has to be done by professionals but effects are well the effort.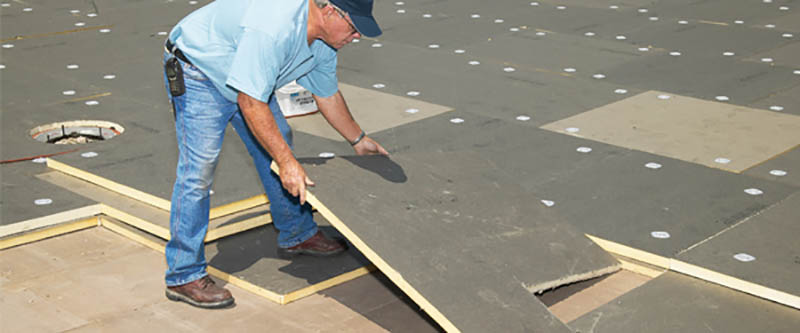 How to choose roofing contractor?
As mentioned before, choice of right roofing material, in terms of both its quality and type, is of uttermost importance. However, when homeowners have it covered, they sometimes forget about another crucial factor in roof installation or replacement, which is contractor. You cannot simply shrug it off by saying that high quality products are enough. Believe me, they aren't. You're roof, even if made of the best what is out there, won't do you any good, if it would be poorly laid. So when you browse this website or that for the perfect match, take some time to find roofing companies Naperville or elsewhere who will get you great results. But how to find the best company for the job? First, start local. If for example you live in Arlington Heights then it's best to look for roofing company in Arlington Heights. For one thing, they will know (by heart) specifics of the houses in your area, for another – they can get to your place in no time, without prolonged waiting. However, all things being equal, localization aren't the quality you should fixate on. Before you decide on that particular company over another, you should consider several factors. First, whether you're roofers are well versed in your chosen type material. Start with reading their website. Sometimes it may turn out that they don't provide that particular service at all (for example installation of metal roofing requires contractors that are well versed in that area). In such a case, sorry but no deal, you have to go elsewhere. If, on the other hand, you're roofing contractors have experience in installation of your chosen roofing material then you can research the company further. Go to portfolio and see for yourself whether you like the results. Yeah, I know it's not conclusive as you're layperson and you can make assessment almost solely on looks but it's a good starting point. You'll deal with the esthetic side for the next couple of decades or more. Nevertheless, looking at the pictures, you can sometimes spot details that were overlooked by a photographer like excessive mess or insufficient covering of surrounding area (think of your favorite shrubbery). Next step is reviews reading to learn how the customers see contractors' work. When you have that part of research covered, ask several of the companies (three at least) for a quote for your roof. Check the necessary measurements to get as exact estimate as possible. But good price isn't everything. Speak with your chosen roofers, preferably in person, about your needs expectations. How they will respond to customer queries, whether they are accommodating and return to you promptly with comprehensive answers is one of the good indicators of your future cooperation.